Spring is a time when homeowners everywhere, including here in the Morristown, Essex County, Bergen County, and surrounding areas of New Jersey, start thinking about cleaning up and cleaning out their homes! Why not make the job even easier and rent a dumpster from All Trades Disposal?
Do you have a garage or shed full of old junk you've been meaning to toss?
Is your basement full of junk like old furniture, broken exercise equipment, leftover renovation materials and empty paint cans, and more?
Are you starting a landscaping project that will create more debris to dispose of than your regular garbage cans and service can handle?
Have you recently trimmed your trees and shrubs in time for spring and don't want to deal with sawing down everything to fit the requirements of your regular trash pickup service?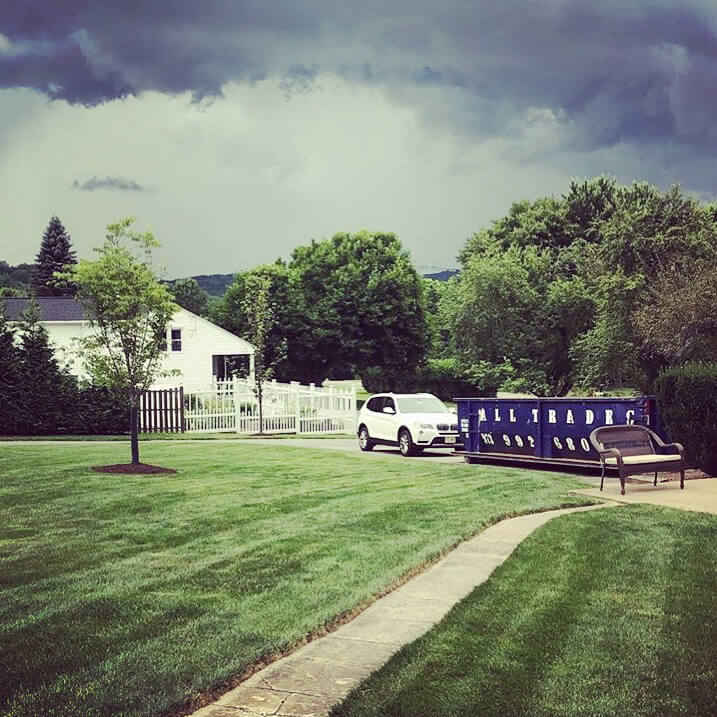 If spring cleaning inside or outside your home is on your agenda this year, we can help with that. And if you're wondering what size of dumpster you need for your residential project, All Trades Disposal in northern New Jersey has a wide range of dumpster sizes:
10-yard roll-off dumpster | 10 ft. long x 8 ft. wide x 4 ft. high
These are a great choice for Morristown, NJ, homeowners doing spring cleanout and cleanup projects. Whether you're remodeling a small area of your home yourself or landscaping, you'll like the size of this dumpster that will very likely fit in your driveway and not be too tall for you to toss items into on your own.
20-yard roll-off dumpster | 22 ft. long x 8 ft. wide x 4.5 ft. high
This dumpster is another popular option for homeowners in Essex County, NJ, and surrounding counties in northern NJ. This dumpster rental works well for your basement cleanout, garage cleanout, landscaping project, carpet or flooring removal, deck removal, shed cleanout or similar project.
30-yard roll-off dumpster | 22 ft. long x 8 ft. wide x 6 ft. high
40-yard roll-off dumpster | 22 ft. long x 8 ft. wide x 8 ft. high
Lots of junk and trash? Sharing a dumpster with a neighbor who is also doing a spring cleanout? No problem. Consider our two largest dumpster options here at All Trades Disposal in NJ. Both of these have the same footprint as our 20-yard dumpsters, but are deeper. This dumpster size is a go-to choice for our construction company and general contractor clients doing things like basement finishes or remodels or kitchen remodels, but we often have Essex County, Morris County, Union County and Somerset County, NJ homeowners rent these dumpsters as well.
Why All Trades Disposal for your NJ dumpster rental needs?
All Trades Disposal has been serving the residential, commercial and industrial industries throughout central and northern NJ since 2000. We do not advertise because we don't need to: our customers speak for us. We believe they'll tell you that we offer exceptional customer service and are trustworthy and reliable. Too often, dumpster rental companies fail to deliver on their promises. All Trades takes pride in being on time, on budget, and flexible when our customers need flexibility. You can always reach us. And we truly value your business!
Rent a Dumpster from All Trades Disposal Today
Call us today at (973) 992-6800 to learn more about how you can rent a dumpster from us in Essex County, Morris County and Somerset County. Happy spring cleaning!