Perfect for smaller projects, such as do-it-yourself home remodeling projects or garage cleanouts, our 10-yard roll-off container holds 10 cubic yards of material. Approx. size: 10 ft. long x 8 ft. wide x 4 ft. high
Sample Projects: Sod tear out, asphalt demolition, small home remodel projects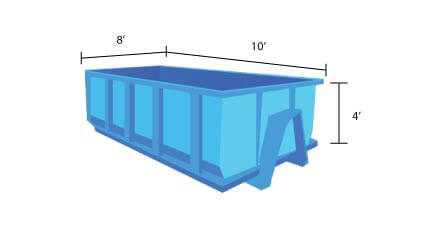 Large enough to handle most projects, our 20-yard roll-off container holds 20 cubic yards of material. Whether you're undergoing a larger home renovation, such as a kitchen or bathroom, this dumpster handles most home projects easily. Approx. size: 22 ft. long x 8 ft. wide x 4.5 ft. high
Sample Projects: Garage or home cleanouts, landscaping projects, full house carpet or flooring removal, deck removal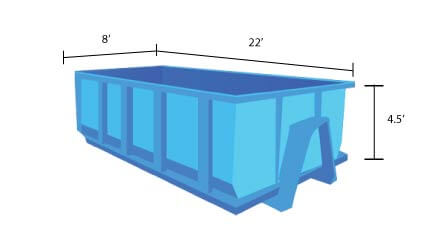 The same length and width as our 20-yard dumpsters, the 30-yard container is a full foot and a half deeper, while taking up the same amount of ground space. Holds 30 cubic yards of material. Approx. size: 22 ft. long x 8 ft. wide x 6 ft. high
Sample Projects: Larger construction projects, larger landscaping projects, major garage and home cleanouts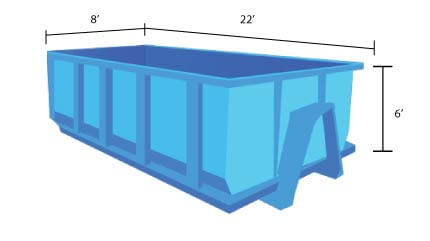 The largest roll-off container we offer, this dumpster can handle serious renovation, commercial, or other projects. The same length and width as our 20-yard and 30-yard dumpsters, the 40-yard container holds 40 cubic yards of material. Approx. size: 22 ft. long x 8 ft. wide x 8 ft. high
Sample Projects: Large construction projects, large renovation projects, window or siding replacement, commercial cleanout, home addition project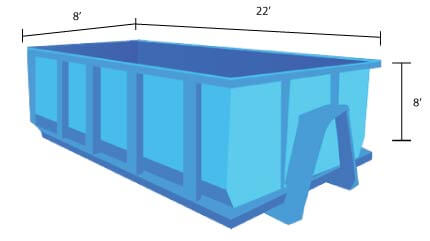 What are acceptable materials for my dumpster?
We accept the following types of materials in our containers. These are examples of the types of materials and not a full list. Please call us at (973) 992-6800 if you have any questions about what materials are acceptable for your dumpster.
Construction Debris
Demolition Debris
Concrete
Asphalt
House Clean-out items
Roofing
Siding
Stumps/Wood Chips
Is there anything that CANNOT go in my dumpster?
Yes! We do not take any hazardous materials. Hazardous materials include (but are not limited to) the following list. If you are unsure, please call us at (973) 992-6800 and we will clarify it for you. You will assume all liability for any hazardous waste that is placed in our containers.
Asbestos
Used Tires
Chemical Products
Industrial Waste
Herbicides/Pesticides
Oil Filters
Radioactive Material
Flammable Liquids
Aerosol cans
Propane Tanks
Motor Oil
The All Trades Difference
All Trades Disposal is different from our competitors because you can always reach us. We are approachable and work to accommodate all the requests that come in. Our disposal company is reasonably priced and very fair to our customers. To us you are not "just a number." Can't find something you're looking for on the website? Let us know. Our goal is to answer your questions and provide you with clear, information.
Ready to get started? It's easy!
Call (973) 992-6800 or

We'll give you an estimate and schedule your delivery.

Fill Up The Dumpster

We don't charge for extra time, like many other dumpster rental services.

Call (973) 992-6800 or

We'll schedule a pickup time when you're done.