If you're making your home more beautiful this spring and you live in Morristown, Essex County, Bergen County, or a surrounding county in northern New Jersey, make sure you have All Trades Disposal on your short list of vendors to call for a dumpster rental.
Even small home renovations like basement clean-outs, powder bathroom remodels, wood paneling or re-tiling a bathroom can create a lot of trash and debris. Maybe you didn't think about needing a dumpster rental until you started demo—and now you're realizing you need a small dumpster in the driveway of your northern NJ home. We can help!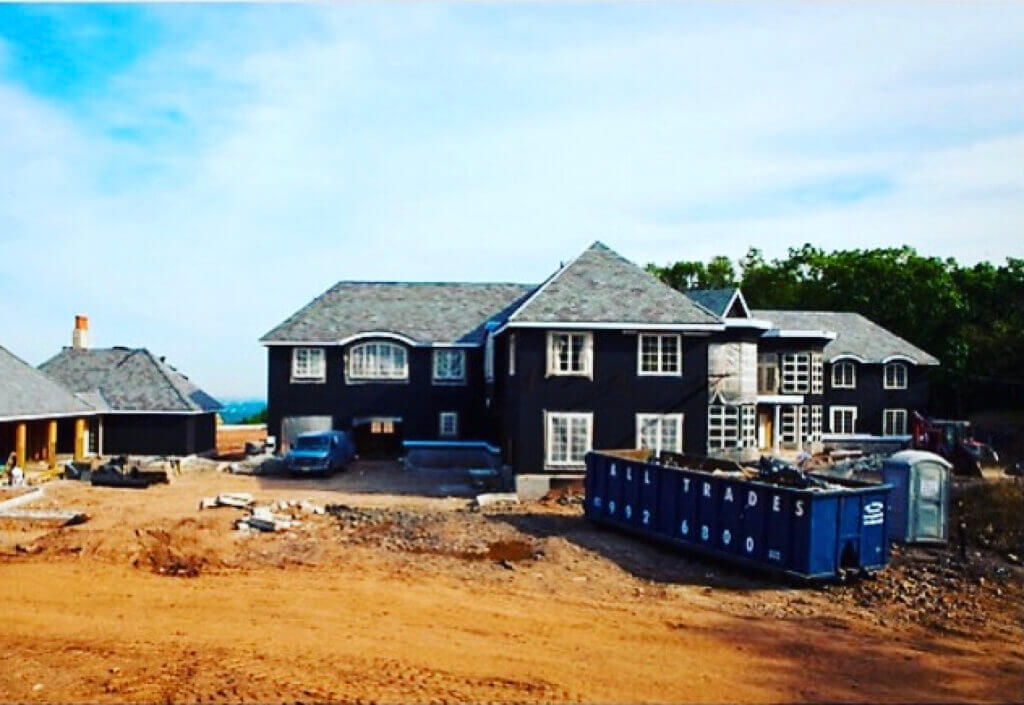 We have several convenient sizes for homeowners doing remodels and home renovations either on their own or with a contractor or handyman's help: 
10-yard roll-off dumpster | 10 ft. long x 8 ft. wide x 4 ft. high 
OR 
20-yard roll-off dumpster | 22 ft. long x 8 ft. wide x 4.5 ft. high
Many homeowners in Essex County, NJ, and surrounding counties in northern NJ find either the 10-yard or the 20-yard dumpsters to be the perfect size. The 10-foot dumpster fits in most driveways and holds a lot, despite its small size. It's also only 4.5 feet high, which means tossing debris into it is relatively easy. If you have some large or awkwardly sized things to throw out (like furniture) the 22-foot dumpster might be a good idea too.
30-yard roll-off dumpster | 22 ft. long x 8 ft. wide x 6 ft. high
If you get into a project in your home realize that you're creating more trash than anticipated, the 30-yard dumpster might be a better choice. It has the exact same footprint as the 20-yard dumpster, but is a full 1.5 feet taller. This might be the best option if you are doing a few remodel projects—a floor project and pulling out carpet in a small area, for example—as well as some spring cleaning.
40-yard roll-off dumpster | 22 ft. long x 8 ft. wide x 8 ft. high
Our 40-yard dumpster is a good choice if you're doing a lot of DIY projects this spring all at once. This is our largest dumpster option at All Trades Disposal in northern NJ. It's deep and wide and can hold a whole lot. It might be more than a homeowner needs for smaller remodel or renovation projects, but call us to discuss. We can walk you through your options!
Why rent a dumpster for your home renovations? 
Many homeowners try to avoid the expense of a dumpster rental during their home project until they realize how time-consuming it is to load up a truck with trash and haul it yourself to the landfill. Especially because a standard 10-yard dumpster holds more than three truckloads of debris—meaning, you would be taking multiple trips. That's time you could be spending on your project!
Disposals at the dump aren't free, either, and by the time you account for your own time, the cost of gas and the wear and tear on your truck (if you even have one, and if not, add the cost of a truck rental in there too), a dumpster rental from All Trades Disposal NJ is well worth it. We're a very affordable option for homeowners in the area with many trusted reviews. Just ask!
Make your home renovation project a little easier on yourself and rent a dumpster. Not sure what size you need? Call us today at (973) 992-6800 to learn more about our dumpster services in Essex County, Morris County and Somerset County. We're happy to help!