If your home or business is in Essex County, Morris County, Union County and Somerset County (or nearby), All Trades Disposal has the dumpsters you need to handle any size of job! 
When searching for the best dumpster rental company in northern New Jersey, you need to ensure you work with a company that is honest, reliable and has great customer reviews. We have all that, plus reasonable prices and staff you can get a hold of when you have a question!
Just as important, we have all the dumpster rental sizes that you need, whether you have a small garage cleanout project or you're a contractor doing a large home remodel. Here are the dumpster rental sizes that All Trades has available and an overview of what size works best for different types of projects: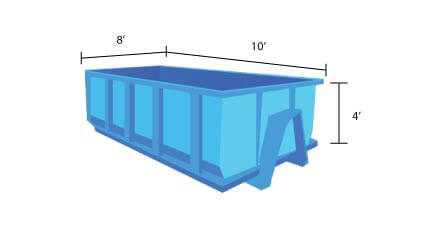 10-yard roll-off dumpster | 10 ft. long x 8 ft. wide x 4 ft. high
DIY home renovators and homeowners often request our 10-yard roll-off dumpster, which holds 10 cubic yards of material or debris. If you are cleaning out a storage area, renovating a powder bathroom, doing a landscape project (like tearing out grass or removing dirt), or redoing a driveway, this is the right size dumpster for your needs. The smaller footprint of this dumpster is ideal for smaller delivery locations, and because it is only 4 feet high, it's great for homeowners who are doing a spring cleanout and will be tossing many small items into the container.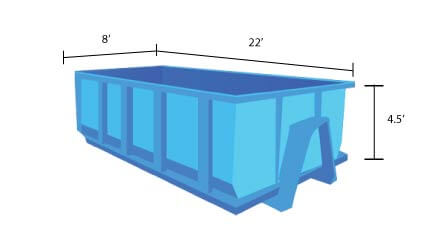 20-yard roll-off dumpster rental | 22 ft. long x 8 ft. wide x 4.5 ft. high
This dumpster is a popular option for contractors and homeowners in Essex County, NJ. It's ideal for those redoing a kitchen or small bathroom, and it works well for other home projects with a lot of debris. Able to hold 20 cubic yards of material, this dumpster should easily accommodate a garage and a small basement cleanout, a landscaping project, a full house carpet or flooring removal, a deck removal/redo project, a shed removal project, or a fence removal project, to name a few examples.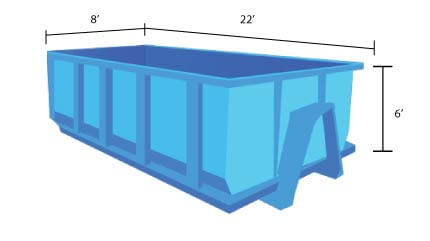 30-yard roll-off dumpster rental | 22 ft. long x 8 ft. wide x 6 ft. high
If you want to make sure you don't run out of dumpster space with a home renovation or whole-house cleanout project, the 30-yard roll-off dumpster is a good choice that will not take up more space in your driveway or on your street. It has the exact same footprint as our 20-yard dumpster but is a full 1.5 feet deeper. This dumpster size is ideal for larger construction projects like a basement remodel, large landscaping projects, major garage and home cleanouts, and small construction projects.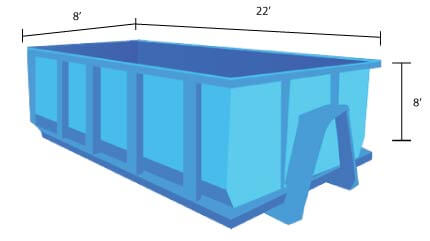 40-yard roll-off dumpster rental | 22 ft. long x 8 ft. wide x 8 ft. high
This dumpster once again has the same footprint as the 20-yard and 30-yard roll-off containers, but is 2 feet deeper than the 30-yard and 3.5 feet deeper than the 20-yard dumpster. It is a smart choice for commercial projects, projects with a large volume of debris and waste, and projects with awkward/large material to dispose. It's also ideal for a residential remodel project (think multiple areas/rooms) or small office building cleanouts.
If you need advice on what size dumpster to rent for your commercial or residential project, call us at (973) 992-6800! We provide roll-off dumpsters to homeowners, commercial contractors, construction companies and offices in Essex County, Morris County, Union County and Somerset County, NJ. We'd be happy to discuss your needs and budget and provide you the best solution.