If you have a residential or commercial project that requires a dumpster, All Trades Disposal in Livingston, NJ, is here to provide you the container you need. We serve contractors, property managers, homeowners and businesses of all types in Bergen County, Essex County, Hudson County, Morris County, Passaic County, Somerset County and Union County.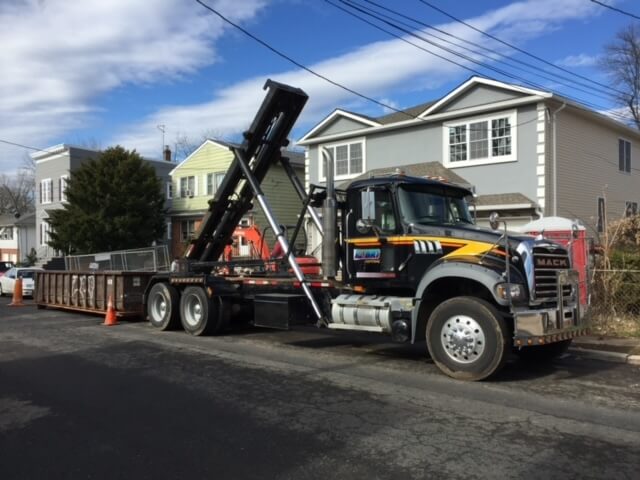 Ready to rent a dumpster? Here's how the dumpster rental process works:
Contact us. If you want to learn more about renting one of our roll off dumpsters, the first step is to reach out to us. We'll learn more about your needs and help you decide what size roll off container is appropriate for your project here in northern New Jersey. There are two easy ways to reach us quickly: by phone (973.992.6800) or by completing the Dumpster Request form on our website.
Give us at least 24 hours' notice. While we may be able to provide same-day service, it depends on the schedule that day. Ideally, we need 24 hours' notice to provide you a dumpster.
We'll quote you a price. Our rental pricing depends on what county your project is in (and where material would be disposed) as well as the size of your container and the final weight of the materials in it. While we strive to be as accurate as possible in our quotes, certain materials weigh more than others, and a final weight will be taken at the disposal location (and we bill for any overage on a per ton basis).
We'll deliver the dumpster within a two-hour window. We will deliver your dumpster to your work site (or home), but we will discuss this location with you beforehand. Two things to keep in mind:

Driveways – If you're a homeowner requesting a dumpster or a contractor working at a homesite, a driveway delivery does not require a permit. However, because dumpsters can get very heavy and damage driveways, we might need to protect those surfaces. We also need to make sure we have enough room for delivery and pickup, including overhead clearance to raise the dumpster once it is emptied. We will never put your property at risk.
Street – Sometimes placing a roll off dumpster in the driveway isn't feasible, so we might instead opt for street placement. Placing a dumpster on a street requires a permit, so the homeowner or contractor will need to provide a copy to us before we can deliver.

You can keep the dumpster for two weeks. We allow customers to keep dumpsters for loading for two weeks, while many of our competitors only allow for one week! When you're finished, you can call to schedule a pickup date and time or complete our Request a Dumpster Pickup form online. If you've filled up the dumpster before your pickup date and need a replacement, we can provide one. Or, if you haven't filled your dumpster and need it longer, we can work that out. Just give us a call at 973.992.6800.
We'll finalize your invoice and send you a bill. After we pick up the roll off dumpster container, we'll dispose of its contents at the appropriate county disposal site. The quote we provided initially will be adjusted if needed (if your weight went over in tons). We then provide a final invoice. We accept all major credit cards, there is a fee of 3.99% for a credit card convenience fee.
We hope this gives you a good overview of the All Trades Disposal dumpster rental process. Questions? Need a roll off dumpster quote for your project? Call us today at 973.992.6800!