Construction projects at your home or work site create a lot of mess and a lot of waste! Whether you are a homebuilder, roofer, mason, or a DIY home improvement pro/house flipper, you need a reliable dumpster rental services company. All Trades Disposal serving Essex County, Morris County, Union County and Somerset (and other nearby counties) in NJ has the dumpsters you need to handle any job.
When you go online searching for roll off dumpster rental companies, it's important to understand that not all of them are the same… and not all of them are forthright about aspects like pricing and availability.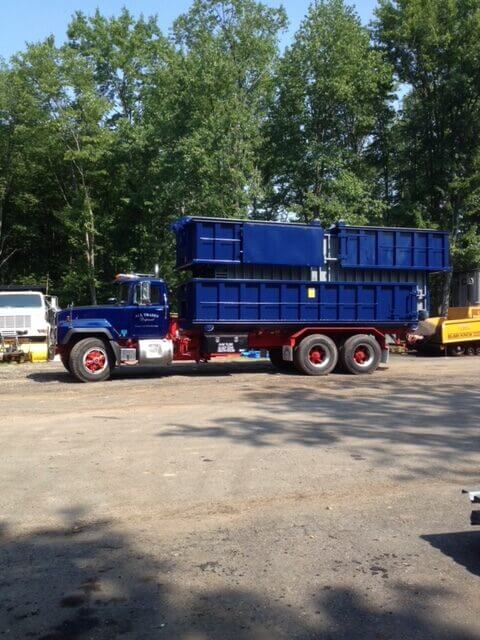 Here are six things you need to consider and research before you pay anything for a roll off dumpster rental service:
Size of dumpsters (inventory) – Different projects require different sized dumpsters. A smaller DIY remodeling project might only need a 10-yard roll off dumpster container, while a commercial project like a roof replacement or home siding replacement project might require something larger like a 40-yard container. Make sure the dumpster rental company has what you need.
Reputation and reliability – It's always wise to go with a reputable dumpster rental company. Ask other contractors or construction companies who they've worked with and had good or bad experiences with. Search online for recommendations. Ask friends and family if the roll off dumpster rental service they worked with on their remodeling or landscaping project was reliable and affordable.
Easy to reach – There are many dumpster rental companies in Essex, Morris and Union counties, but just because you find a company online and think, "Great! A dumpster rental near me!" doesn't mean you should stop your homework there. A delay in dropping off a container or picking it up can result in trash buildup on your job site or home (which can be dangerous and unsightly) and headaches for you. Make sure the dumpster rental company you choose is dependable, timely, easy to reach on the phone, and responsive to your questions. Commercial and residential construction projects are stressful enough. The roll off dumpster rental service you use should not be.
Allowed materials and trash – Certain materials are not allowed by some dumpster rental companies here in Essex, Morris and Union Counties, so make sure you get a list from any dumpster rental service you're considering. View our FAQs to confirm what materials can and cannot go into All Trades Disposal dumpsters. Generally, flammable or hazardous materials like aerosol cans, propane tanks, and motor oil aren't allowed by law.
Pricing and how it varies – Dumpster rental pricing varies from company to company, and it's important to get clarity before you engage any company. At All Trades, we strive to be transparent and simple with our pricing. It does depend on a few factors (and we always encourage customers to call for a more accurate quote):

Where we will deliver your dumpster – This is because disposal pricing for us varies from Morris County to Essex County to Somerset County and beyond.
The weight of materials – Certain materials are much heavier than others (like concrete, brick, asphalt etc.). This effects our pricing.

Length of time the dumpster is needed – Some companies charge for length of rental time. It's a good idea to clarify this policy. All Trades Disposal allows up to two weeks for customers to load their dumpsters before we haul it away. We always work this out with customers if a customer needs a little more time, however!
Are you working on a demolition project, home remodel, or commercial construction project that needs roll off dumpsters?
Call us to learn more about our pricing and process. We're happy to answer any questions you have and give you an accurate quote. We have proudly served Morris County, Essex County, and other nearby counties since 2000—a result of our honest approach and commitment to excellent customer service. We'd love to earn your business!
---
Have You worked with All Trades Disposal Before?
We'd love for you to Review Us on Google.