If you're a homeowner cleaning out your basement, tossing old, broken furniture, or completing a small renovation or landscaping project, chances are you've asked yourself whether you should rent a rolloff dumpster or handle your waste removal yourself.
While you can save money hauling waste to a landfill yourself, you can also end up spending far more time than you expect. The fees might be higher than you realize too.
Transfer station vs. landfill (dump)
Before we talk about what you need to know here's a quick clarification. Modern waste management involves waste collection and disposal/recycling. But, there is an intermediate step that happens at a transfer station.
A transfer station is where commercial waste collection vehicles unload waste to be sorted, compacted, and loaded into larger trucks to be hauled elsewhere. That might be a landfill, a plant that converts waste to energy, a solid waste incinerator, a hazardous waste facility, or recycling facility.
Waste transfer stations are generally meant for commercial vehicles. However, some do allow residential customers to drop off waste themselves. There are often rules and fees involved with this. Which leads us back to the initial topic…
Should you dump yourself or call a company like All Trades Disposal to rent a rolloff dumpster?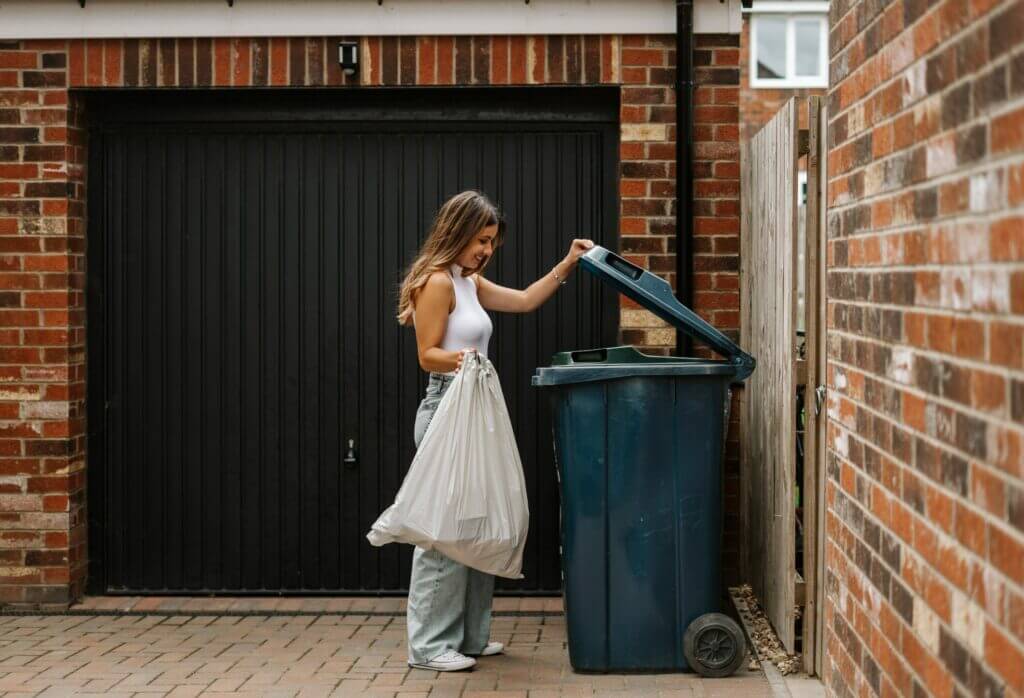 Here are several considerations when making this decision:
Rules of the landfill or transfer station.
Every landfill or transfer station has a detailed list of accepted and banned materials. For example, the Morris County Municipal Utilities Authority, which has two transfer stations, has multiple rules. These rules are about the type of truck that is allowed to transport and dump waste at the transfer stations, the size of items they'll accept, etc. Some transfer stations are strict about only accepting bagged, household trash, requiring residents to take large items like branches and couches to the landfill.
Your ability to do the heavy lifting
There won't be people at the landfill or transfer station to unload your vehicle, so you'll need to be prepared to unload everything yourself (and bring others with you if needed). Keep in mind that some landfills require customers to wear protective equipment like closed-toe shoes, eye protection, safety helmets, and high visibility shirts.
The type of material you're disposing
There are different types of landfills for different types of waste. It's important to do your homework before driving to a dump with a truck full of junk. Municipal solid waste landfills take household items. Construction and demolition landfills are intended for debris from construction or renovation projects.
Fees at the landfill or transfer station
Dumping solid waste at a landfill or transfer station can become costly. Facilities might charge non-commercial vehicles by the ton or by the cubic yard, with different rates for different types of waste items. Some have additional charges for items like mattresses, appliances, tires, or electronics. Most charge extra for uncovered or unsecured loads. If you have to make multiple trips, any per-car charges will add up too.
The amount of junk or waste you have to dispose
Pickup trucks are fine for transporting waste to a landfill or transfer station. However, if you have too much waste for one trip, that's time consuming and inconvenient—not to mention the cost of gasoline. And depending on what you're hauling, you could leak waste or get your vehicle dirty.
Sound like a headache? Rent a rolloff dumpster from All Trades Disposal
If you've only got a broken chair and some tree limbs to dispose, it might make sense to take a trip to the dump yourself. But if you don't want to worry about the hassle, cost, and wear and tear on your vehicle, call All Trades Disposal at (973) 992-6800.
We make waste disposal easy! All Trades has various sizes of rolloff dumpsters. Whether you are a homeowner, contractor, or construction company throughout central and northern New Jersey we have a rolloff dumpster for you.
Learn more about our roll off dumpster services in Essex County, Morris County and Somerset County today!