When homeowners call All Trades Disposal to inquire about renting a roll-off dumpster for their construction, renovation, or cleanup project, one question that often comes up is, "Do I need a permit for this dumpster?"
The short answer: yes, you do. There are a few important things to know, however. Here's a quick summary about permits and dumpsters:
The rules vary by county/city.
Rules on dumpster placement depend on the town/county/jurisdiction of your project or home (or business). In the town of Morristown, New Jersey, for example, you must submit a dumpster permit application describing the location of the container. Once approved, you'll be notified with a plan showing the location and placement of the container. In Essex County, there is a similar process that must be completed by a licensed and registered contractor with the state of New Jersey. There are rules about where the dumpster must be located, reflectors or cones that must mark the roll-off container, where to display the permit, etc.
Driveways still require permitting.
Some jurisdictions prefer a driveway placement and will say so explicitly on their website. Depending on where you live, it might be requested by the government division that handles dumpster permits that the roll-off dumpster is placed in your driveway. If the driveway is not feasible for some reason they may tell you where it needs to go. Again, this depends on the jurisdiction, as well as the size of your street and things like your proximity to a street corner/intersection. Typically, we find that most counties/cities do require permits. Even when the dumpster is placed in a residential driveway or on private property you need one. 
If you're working with a general contractor who is ordering a roll-off container, they should handle the permitting.
As a homeowner, you will need to obtain a permit for your dumpster rental. Whether you're cleaning out your home or doing a project yourself you need a permit. But if you are working with a licensed general contractor, they should handle this for you. They'll need to supply proof of insurance and worker's compensation, but they should handle the permit process—not you.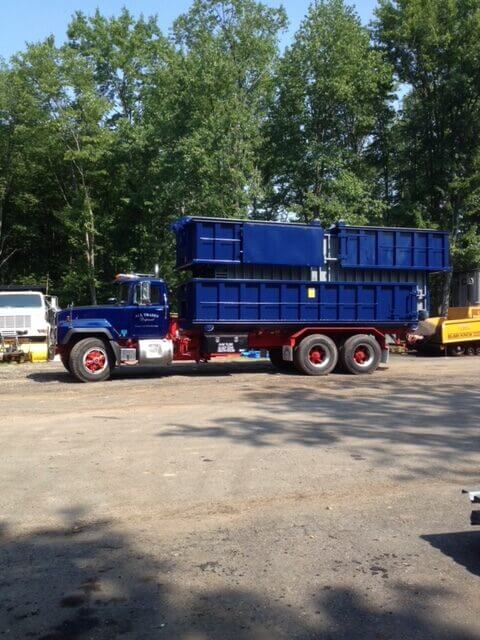 For homeowners, permitting is made easier if you're working with a reputable roll-off dumpster provider.
At All Trades Disposal, we know what a tedious process it can be to submit forms online or hard-copy paperwork to obtain a permit in an efficient manner. Our goal is always to keep your project running smoothly. We know the jurisdictions in the northern New Jersey area that we serve well. So, when it comes to getting permits for your roll-off dumpster, we will direct you to the dumpster permit application for your area and walk you through the process. 
Questions about permits, roll-off container sizes, costs, or something else? Contact us.
Give us a call to discuss your dumpster needs and your preferred placement. We will handle the rest. Working with clients in Morris County, Essex County, Somerset, County, Bergen County, Hudson County, Passaic County and Union County we know what to do. All Trades Disposal is very familiar with the regulations and requirements of each New Jersey county we work in. We will take those worries off your plate so you can focus on your project. Our pricing is also simple so that you understand exactly what you are paying for and how long you can keep your dumpster.
Contact All Trades Disposal today for an estimate by filling out our form or calling 973.992.6800.